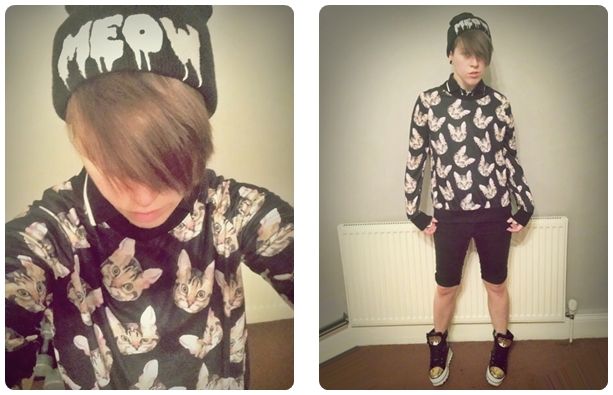 Just to post about an amazing sweater I recently ordered from
Sheinside
. Don't let the name fool you - as any good alternative guy knows, the most fashionable places are womens shops. We're stuck with slogan t-shirts and straight leg jeans. So on with the review! I ordered this item on
02/09/2012
and received it on
12/09/2012
, amazingly fast shipping. I was
still waiting
on some zips I ordered from the UK in this time, so I was shocked (in a good way) how fast the shipping was.
less than £15 delivered!
I really liked the way this was packaged, it came neatly folded in a reusable zip lock bag with the shop name "
Sheinside
" printed on it, inside the standard plastic packaging wrap. We recycle/reuse all packaging here, so this is all useful. You can see Ifrit helping me unwrap this as he is a nosy little face. Another great thing about the postage is I got a tracking number and was told how to log in and track my item, which again, with free shipping is pretty nifty.
The quality of the item is
brilliant
for the price, think how much
Primark
sweaters are nowdays! You can see it in my lookbook above. I'd say for disposable fashion this is great. The colour is vibrant, the fabric is really soft, if you are reading this debating buying this jumper I would say go for it. Especially if you haven't bought from
Sheinside
before - new members get
15%
off making it even cheaper!
I already have my eye on my next purchases from there...!
Rating
Postage: ❤❤❤❤❤
Service: ❤❤❤❤❤
Price: ❤❤❤❤❤
Quality: ❤❤❤❤❤
Overall: ❤❤❤❤❤
5/5 highly recommended
will order again!